Hi guys,
today I had to go shopping for blouses or shirts because I have to dress in a very smart/business way for a job on Thursday. You might wonder why I don't already own one of them in my full to bursting wardrobe. It is because 1) I hate ironing and I will avoid anything that needs to go under my decrepit iron (and I haven't even got an ironing table...) and 2) the blouses which have invaded all the shops in the last few years are not fitted and billowy. They have that vintagey look; most of them are in chiffon and would be perfect on Florence and the Machine or any girl who's really skinny and trendy. On me, they remind me of my middle-aged, blind piano teacher when I was a kid. Madame Barrière was a brilliant teacher. She taught me everything I know about piano playing, but she was definitely not a fashion icon and looked rather matronly...
Whenever I try on the previously mentioned shirts, it also transforms me into the Governess from the Chase, Anne Hegerty.

Not sexy, I'm telling you.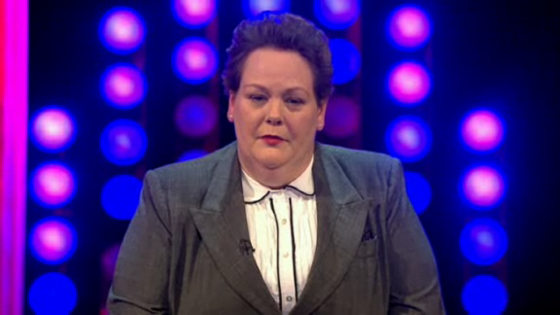 What I would like designers to realise, it's that girls with an hourglass figure like mine really struggle with nowadays fashion. So I decided to try loads of the shirts that were in the shops and took pictures of myself. For once, you are going to see clothes that don't fit, and that makes (some) people look hideous. Not just the usual blog shot of "look at me, I've put together this amazing outfit in five seconds, faster than Rachel Zoe and her team of stylists reunited".
First of all, the "col qui dégueule" which means "barfing collar" in French. The one that droops over your boobs.... I look so top heavy and fat, it's disgusting.
Then there were others which make me look like a tent:
All of them are too puffed and billowy around the waist.
I found a couple that were okay. However, one was so see-through that I didn't get it (I might later when it's on sale and I will put a vest underneath)
And this one (but now that I look at it again, I am not sure about the draping over the skirt waist)
But, FINALLY, for work, I found something!!!!
I bought this dress which is a combo of a blouse and a skirt:
And I have also bought a shirt and a skirt which were really cheap, because on sale, at Vero Moda (but those, I don't think I will be able to wear them in a very proper working environment, as the skirt is a bit short). At least, I can put them on when I intend to go out or just during a normal day.
What do you think, peeps? Do you like it? How do you find shopping for blouses/shirts? I am waiting for your comments!
The image of Ann Hegerty comes from this website: